First and Foremost...

The world that we live in is not always an easy one. These past few days have been rough on a lot of people and much love and prayers go out to all of you, especially those who have a burden to bear. Whatever your struggle, it is our hope here, at freshtodef, that our posts can bring a smile to your face and fresh outlook on life.
Another One Of My Favorite Albums EVER
Producer: Alchemist, From the 2002 album, Reanimation
Starting off as a popular clothing label and later maturing into a full-fledged empire, Marc Ecko has had a strong love for Star Wars which has resulted the recent release of a collection of Star Wars products. Among the items is a Storm Trooper full-zip hoodie. With Halloween just around the corner, these make for the perfect costume.

Hate to bite from Kanye but...
Pac Man Couture by Giles Deacon
The styling and production of Gile's Spring Summer 2009 runway show, the floor of which was painted with the familiar graphic imagery of the 80's video game pac man. Giles Deacon has designed for many big names such as Jean Charles De Castelbajac, Louis Vuitton and Ralph Lauren.

Ever wonder how other people's work environments are? Here's a peek into the Google headquarters and the conditions that they work in.
Moving around: A slide allows quick access from different floors. There are also poles available, similar to the ones used in fire stations.

Work Station: Each employee has at least two large screens. Each office only contains 4-6 zoozlers.

Large boards are available just about everywhere beacuse "ideas don't always come when seated in an office" says one Google manager.

Leisure. Pool tables, vieo games etc. are available in many areas.

On each floor, there are private cabin areas where employees can attend to personal affairs.

Professional masseurs are available around the clock.

Rest... This room provides massage chairs that you can control while viewing the soothing aquariums.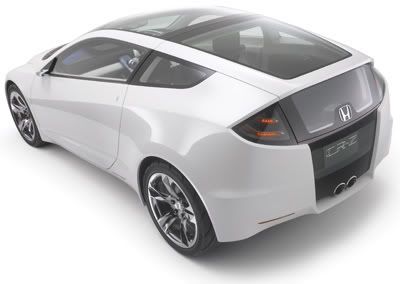 The Honda CR-Z (Compact Renaissance Zero) is a gasoline-electric hybrid automobile developed and planned for production by Honda. The CR-Z was first introduced as a concept car by Honda CEO Takeo Fukui on October 23, 2007 at the 2007 Tokyo Auto Show. Fukui further announced that a production model is "in the works" and that the car is intended to be "sporty, incredibly efficient and inexpensive." Aside from the fact that it will use Honda's Integrated Motor Assist system, the specifications of CR-Z's drive train are unknown.